Rate of return, standard deviation, and coefficient of variation You have heard about the great returns that some private equity funds generate and have decided to evaluate BlackRock, Inc. (BLK) and KKR & Co. Inc. (KKR). The table below provides 13 months of historical prices for each company. Assume that neither company paid a dividend during this period.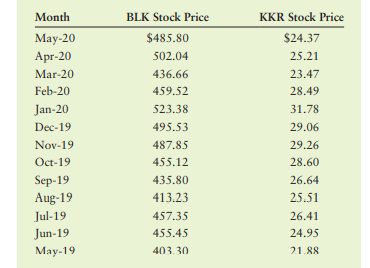 a. Calculate the monthly rate of return for each stock.
b. Calculate the average monthly return for each stock.
c. Calculate the standard deviation of monthly returns for each stock.
d. Based on parts b and c, determine the coefficient of variation for each stock.